The Best Black Friday deals in Canada
Check out the Best Candian Black Friday Deals and were to find them.
Several Canadian shops have already begun offering (early) Black Friday specials.
As we approach Black Friday, here's a round-up of some of the most significant bargains and promos, with more to come: In store or Online you can find these deals everywhere from Best Buy, Walmart, Amazon, Bed Bath and Beyond, to Canadian Tire, Home Depot and Lowes!
Canada has not had seen the "Out of Stock" like their friends in the south, but they could in due time.
Led By The Unknown is supported by its audience. When you purchase through links on our site, we may earn an affiliate commission. Learn More
Amazon.ca Black Friday Deals 2021 – Up to 66% off
Walmart
Walmart's Black Friday offers went live on November 17th and are anticipated to last until November 24th, after which the firm will roll out a fresh round of deals. Check out the following Walmart discounts that are now available:
Walmart Black Friday deals here.
Amazon
Although Amazon Canada notes in a press release that its discounts would be provided in a two-day extravaganza, most likely on the 25th and 26th, there are plenty of noteworthy deals to consider now, especially if you're concerned about delivery delays this Christmas season.
It's important to keep in mind that some items sell out quickly, especially when they're on sale. Some of the items on this list may be out of stock or no longer available for purchase.
Check out Amazon deals below:
Fire HD 8 tablet, 8-inch HD display — $69.99 (regularly $109.99)
Fire TV Stick 4K streaming device with Alexa Voice Remote — $34.99 (regularly $69.99)
PlayStation Plus 12 Month — $46.95 (regularly $69.99)
Blink Video Doorbell — $39.99 (regularly $59.99)
Save Up to 57 percent off Blink Smart Cameras and Echo Bundles
Save up to 39 percent on select Fitbit products
Save up to 35 percent select Electronic Accessories from Amazon Basics
Save up to 35 percent on select Samsung solid state drives
Up to 59 percent off Ring Video Doorbell Wired
Save up to 61 percent on select Sony Headphones and Earbuds
Amazon Black Friday deals here.
 IMPORTANT NOTE: In addition to using a VPN, you may need to sign up for a service that offers subscriptions.
All Amazon Deals up to 50% off
Best Buy
Best Buy's Black Friday bargains include TVs, laptops, and headphones, as well as wearables, video games, and smart home technology. Here are a some of its more significant deals:
Samsung 70-inch 4K UHD HDR LED Tizen OS Smart TV: $899 (regularly $1,299.99)
Sony BRAVIA XR X90J 75-inch 4K UHD HDR LED Smart Google: $1,999.99 (regularly $2,999.99)
ASUS ROG Strix G15DK Gaming PC: $2,099.99 (regularly $2,499.99)
Acer Aspire C 24-inch Touchscreen All-in-One PC: $999.99 (regularly $1,399.99)
JBL Free II In-Ear Bluetooth Truly Wireless Headphones: $79.99 (regularly $219.99)
JBL Charge 5 Waterproof Bluetooth Wireless Speaker

 

$189.99 (regularly $239.99)
Lenovo Yoga 7i 14-inch Touchscreen 2-in-1 Laptop: $899 (regularly $1,349.99)
Google Chromecast (3rd Generation): $29.99 (regularly $39.99)
Amazon Fire TV Stick 4K with Alexa Voice Remote: $34.99 (regularly $64.99)
Razer Ornata Chroma V2 Backlit Mecha-Membrane Gaming Keyboard: $79.99 (regularly $104.99)
Google Nest Cam Wire-Free Indoor/Outdoor Security Camera: $379.99 (regularly $439.99)
Google Nest Wi-Fi Smart Learning Thermostat: $249.99 (regularly $329.99)
Google Nest Doorbell (Wired) Wi-Fi Video Doorbell: $199.99 (regularly $299.99)
Samsung Galaxy Tab S7 11-inch 256GB Android Tablet: $729.99 (regularly $909.99)
Best Buy Black Friday deals here.
Apple
Instead of offering discounts, Apple offers free gift cards with the purchase of select devices. Take a look at these offers:
iPhone SE — $70 gift card
iPhone 12 — $70 gift card
iPhone 12 mini — $70 gift card
Apple Watch SE — $70 gift card
Apple Watch Series 3 — $70 gift card
11-inch iPad Pro — $140 gift card
12.9-inch iPad Pro — $140 gift card
Mac mini — $140 gift card
MacBook Air — $140 gift card
13-inch MacBook Pro — $140 gift card
27-inch iMac — $280 gift card
Apple TV 4K — $70 gift card
Apple TV HD — $70 gift card
Beats Studio 3 Wireless Headphones — $70 gift card
Beats Solo 3  Wireless Headphones — $70 gift card
Apple Black Friday deals here.
The Sorce 
The Source's Black Friday offers went live on November 18th and will last until November 24th, after which a fresh set of Black Friday discounts will be released. Take a look at the current offers below:
Acer Nitro 5 AN515-55-50Z3 15.6-inch Gaming Laptop with Intel i5-10300H, 256GB SSD, 8GB RAM, NVIDIA GTX 1650 & Windows 10 Home: $849 (regularly $999.99)
Sony WH-CH700N Over-Ear Wireless Noise Cancelling Headphones: $89.99 (regularly $159.99)
Acer Aspire A314-22-A6WC 14-inch Laptop with AMD 3020e, 128GB SSD, 4GB RAM & Windows 10 Home in S Mode: $349.99 (after December 1st, the price will be $399.99)
Fitbit Versa 2 Smartwatch – Special Edition: $169.99 (regularly $249.99)
Acer Aspire 3 A315-35-P4JC 15.6-inch FHD Display Laptop with Intel Pentium N6000, 8GB DDR4, 256GB SSD, Windows 10 S mode: $529.99 (after December 1st, the price will be $599.99)
Canon PIXMA MG3620 Wireless All-in-One Inkjet Printer – White: $89.99 (regularly $109.99)
Turtle Beach Recon 500 Wired Multiplatform Gaming Headset – Black: $69.99 (regularly $99.99)
JBL Clip 4 – Ultra-portable Waterproof Bluetooth Speaker – Black: $59.99 (regularly $99.99)
The Source Black Friday deals here.
The Amazon Fire TV Sticks
Streaming sticks are also on sale right now, particularly on Amazon. Amazon is now discounting the older Fire TV Stick 4K, which comes with the third-generation Alexa control, by 50%. Normally $50, you can get one for $25 right now, the device's lowest price to date. It's not as powerful as the Fire TV Stick 4K Max (which is now on sale for $35 instead of $55), but it's still speedy and supports Dolby Vision, Dolby Atmos, HDR10 Plus, and HDR10. Check out our review.
Amazon's Fire TV Stick 4K comes with 4K Ultra HD, Dolby Vision, HDR, and HDR10 Plus support, as well as an Alexa-enabled voice remote that works with most TVs. Its audio output is also capable of Dolby Atmos, and it is compatible with Netflix, Disney Plus, HBO Max, Prime Video, and all of the main providers.
LEDBYTHEUNKNOWN does not own or operate any IPTV service. LEDBYTHEUNKNOWN does not receive any revenue or affiliate commissions from any service. We don't know if a service or website holds the proper licensing for the channels that they deliver. Always use a VPN with unverified IPTV services/websites as their servers may be insecure.
Step 1 – Register for an account at IPVANISH by clicking HERE.
Step 2 – From the home screen hover over Find.
Step 3 – Scroll down and click Search.
Step 4 – Type in "IPVanish" and click the first option.
Step 5 – Click the IPVANISH VPN app.
Step 7 – Once the IPVANISH app installs, click Open.
Step 8 – Create account through this link if needed.  Click Here
Step 9 – Input your IPVANISH username and password and then click Login.
Step 10 – Click the CONNECT button.
Step 11 – If you receive a VPN connection request such as this, click OK.
Step 12 – Click the Disconnect button to stop service.
Settings – Scramble
1. From the home screen of your device, hover over the Find option.
2. Click Search.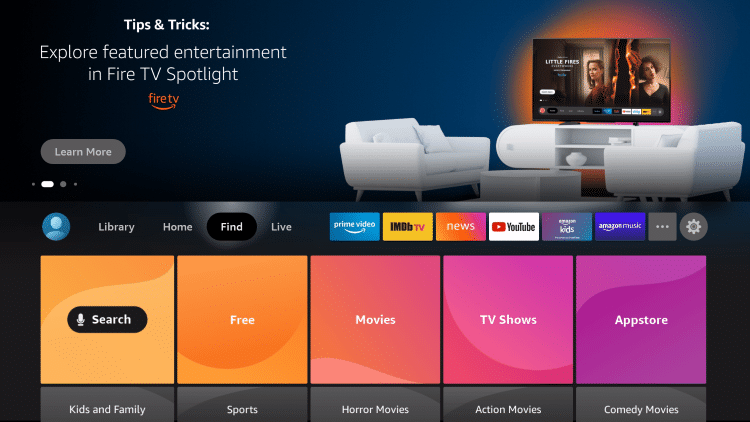 3. Search for and select Downloader.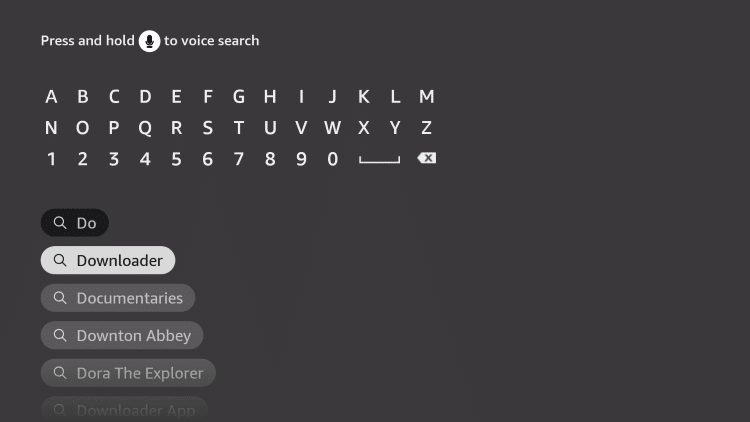 4. Choose the Downloader app.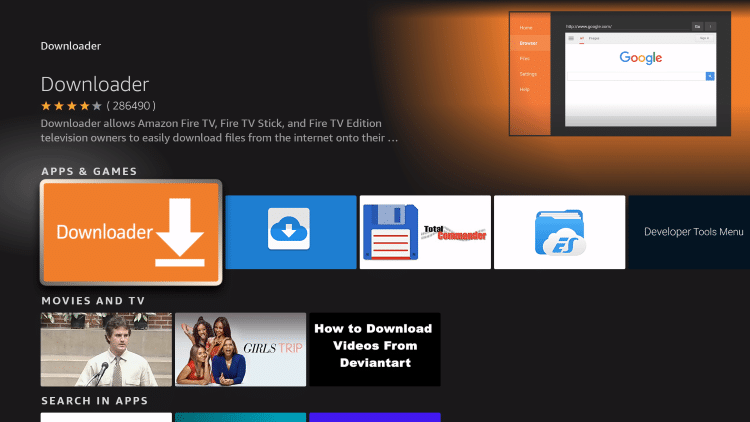 5. Click Download.
6. Wait for the app to install.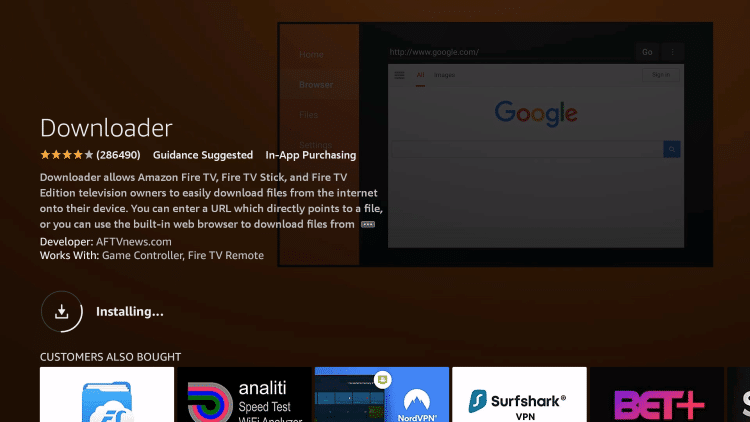 7. You will then encounter Downloader Ready to launch message.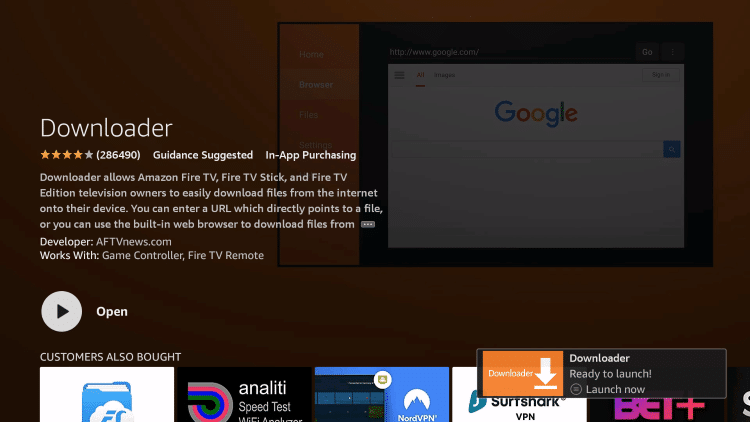 8. Return to the home screen and open Settings.
9. Click My Fire TV.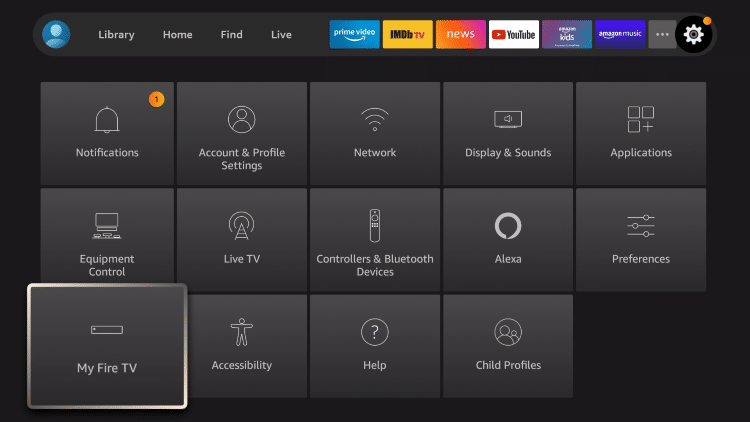 10. Choose Developer options.
11. Click Install unknown apps.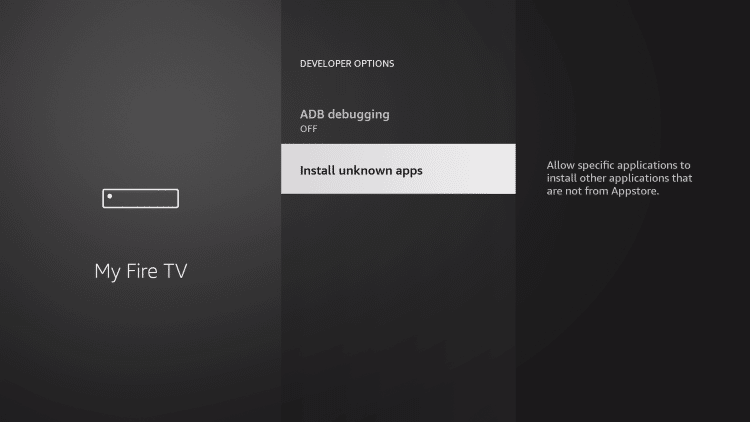 12. Find the Downloader app and click it.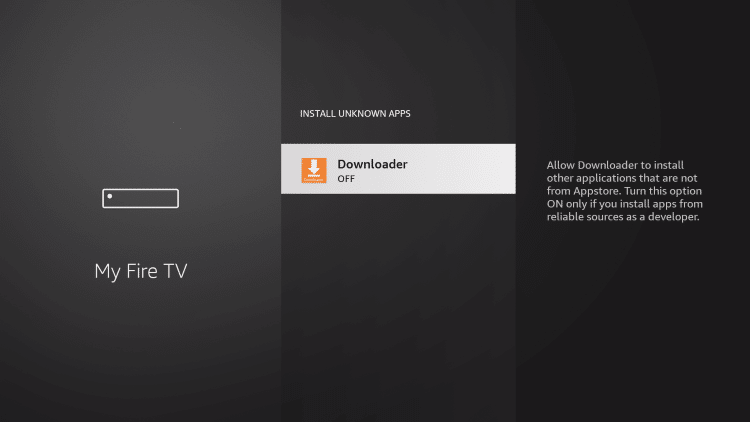 13. This will turn Unknown Sources to On for the Downloader app. This will enable side-loading or "jailbreaking" abilities on your device.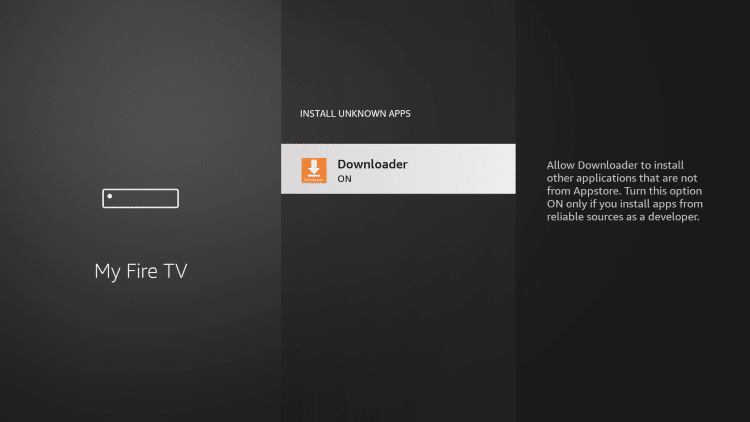 Part 2: Installing AppLinked on FireStick
Let's install AppLinked on your FireStick device using the Downloader app. 
1. Launch Downloader.
2. Select the input box that says Enter a URL.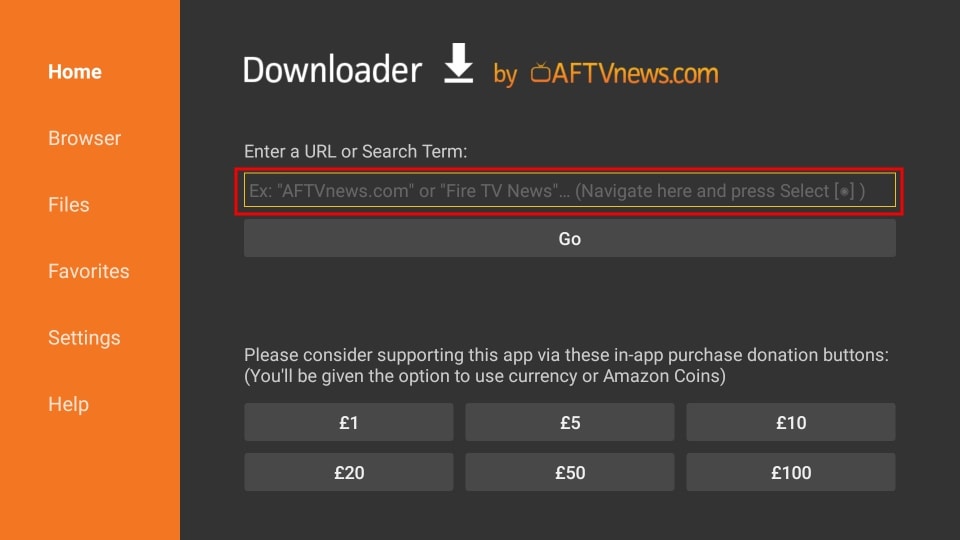 3. Enter https://bit.ly/3xSeyGA in the box and click Go. The URL is case-sensitive, so make sure you typed it correctly. Please note that the screenshot below shows the original URL, but you may use the shorter URL I just mentioned in this step.
Note: Ledbytheunknown.com doesn't own, host, or distribute this APK. The URL above redirects to i4studio.co.uk, where the APK is hosted.
4. Now, wait for the APK to download.
5. Once the APK is downloaded, click INSTALL.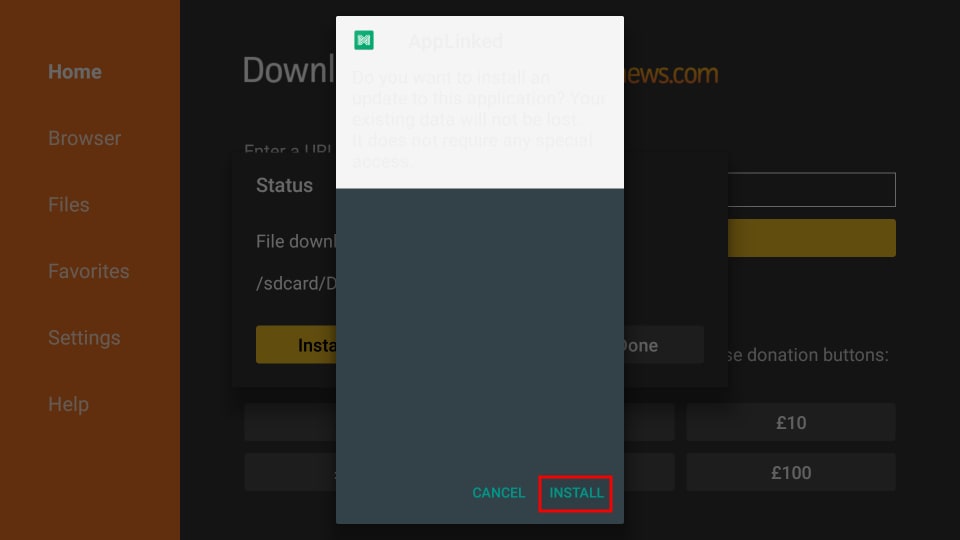 6. Wait for the installation to complete and click DONE.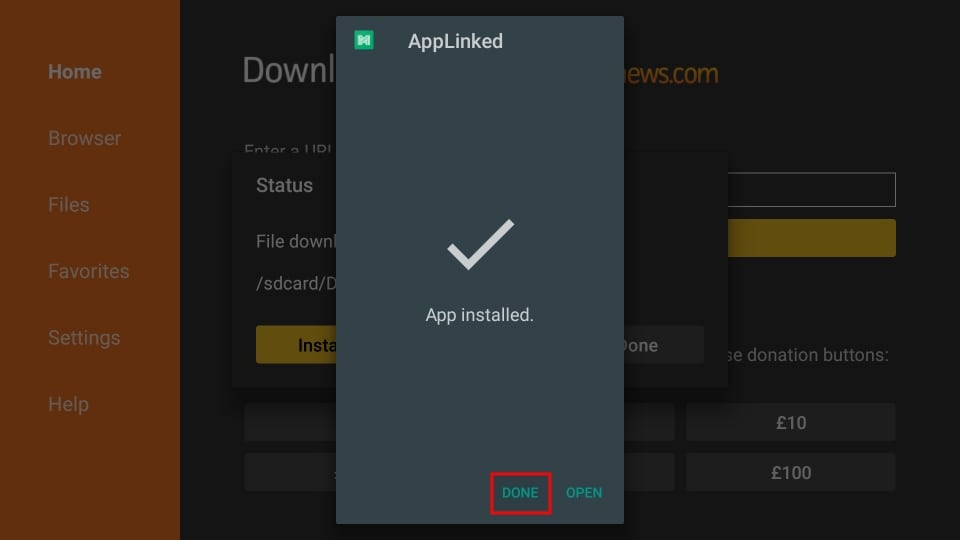 7. Since AppLinked is already installed, you don't need the AppLinked APK hereafter. So click on Delete.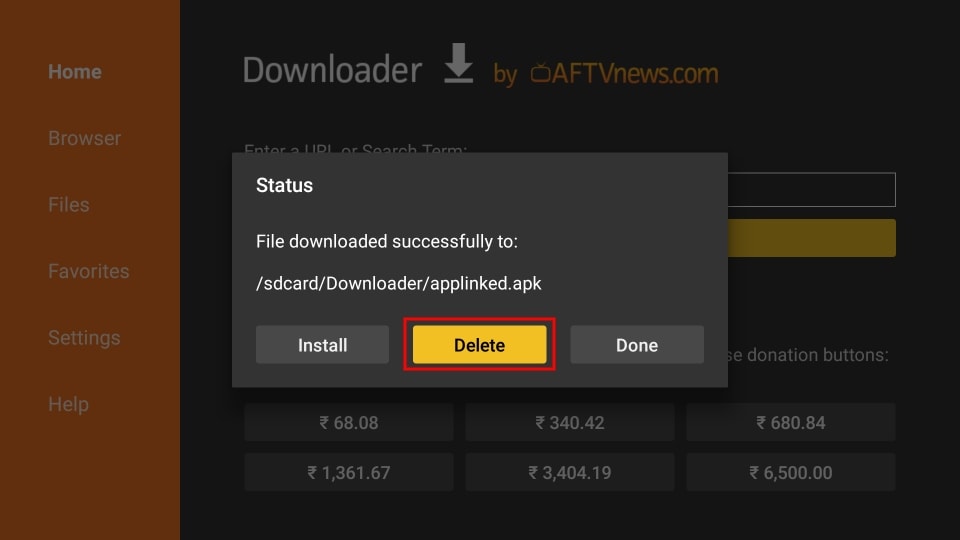 8. Click Delete again.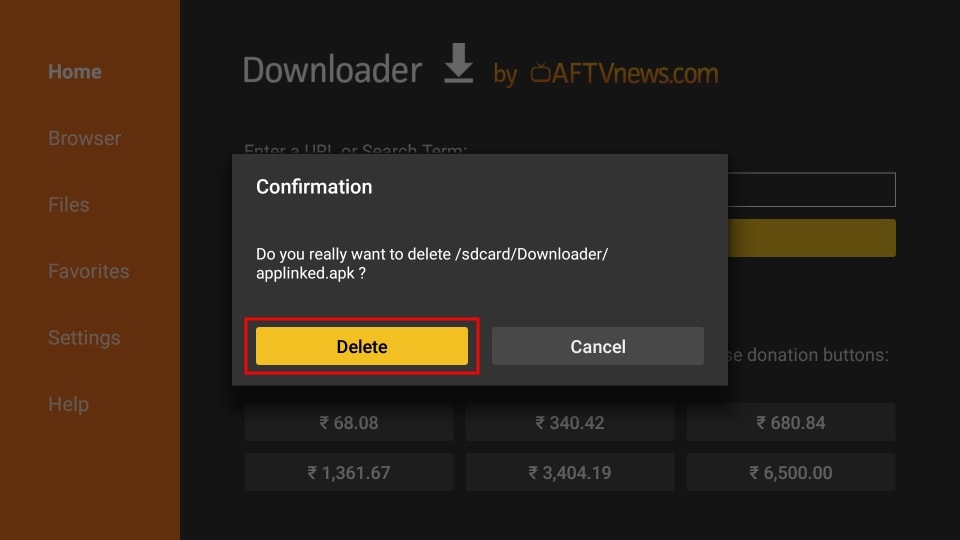 How to Add AppLinked to Your FireStick Home Screen
1. On your Firestick home screen, select the three-tile icon as highlighted below.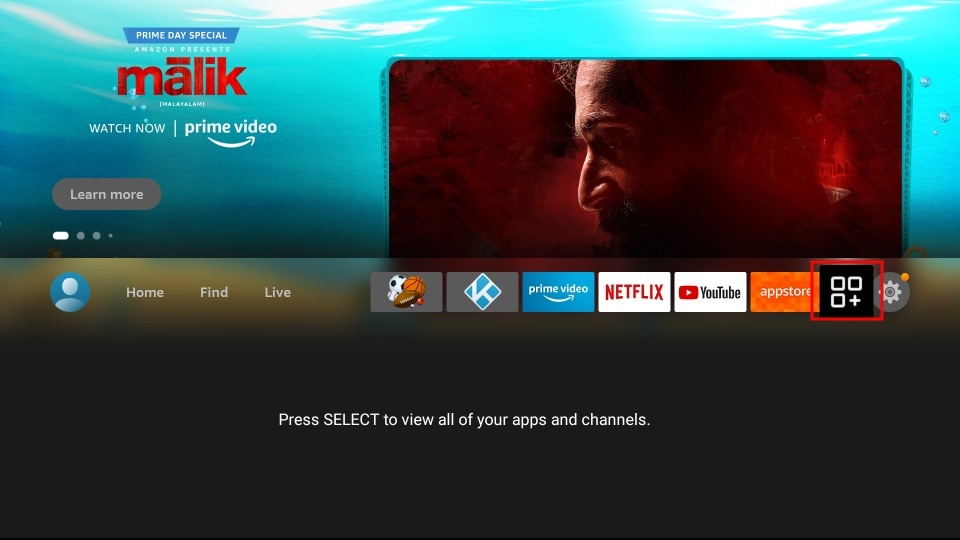 2. Scroll to AppLinked and press the menu button on your FireStick remote.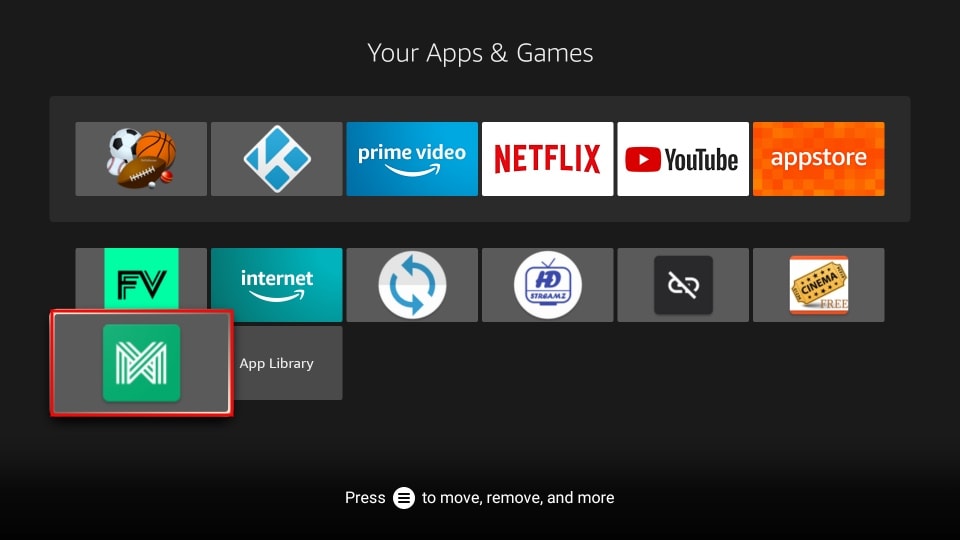 3. Select Move.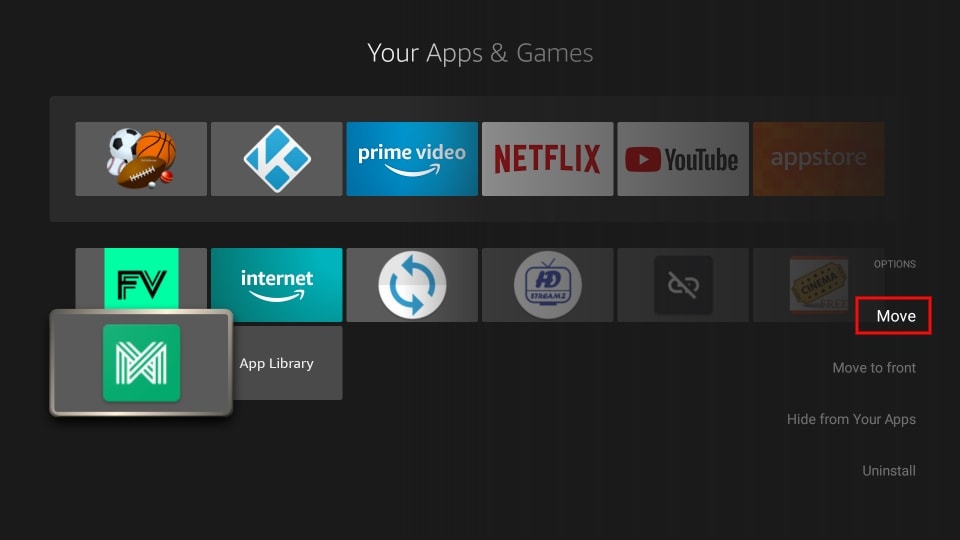 4. With the navigation buttons, move the app to the top row. Press the select button on your remote to set the new position.
5. There you have it! AppLinked is now ready to use from your home screen.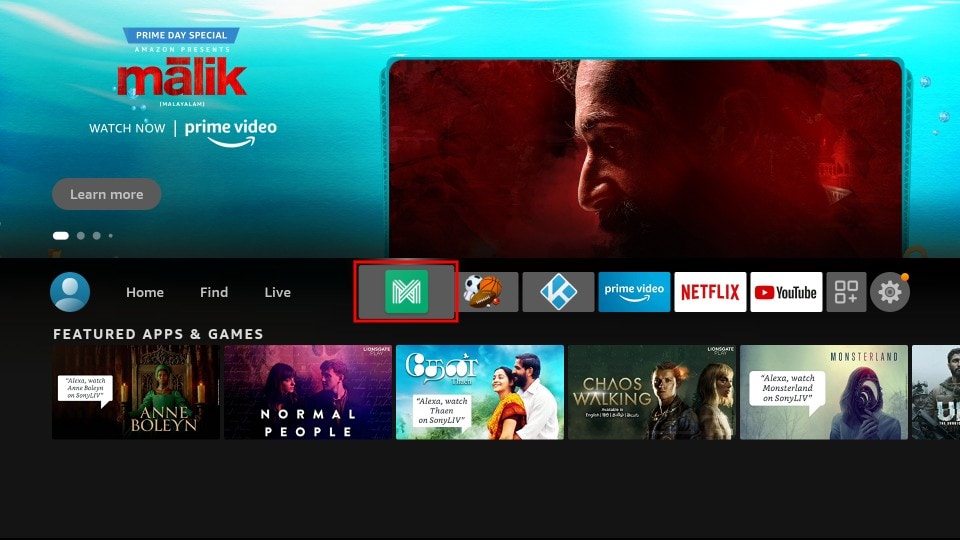 How to Use AppLinked on FireStick
When you launch the AppLinked app, you're taken to a home screen that looks like this.
As you can see, the interface is pretty minimal and doesn't have much to explore or tweak. If you know what code you want to use, go for it! Or you can try out some of the codes I mention below these instructions. Once you enter a store code, the app will save it automatically, so you don't need to type it out every time to browse through the same code.
To install apps with AppLinked codes, here's what you need to do.
1. Click Add Store on the top right.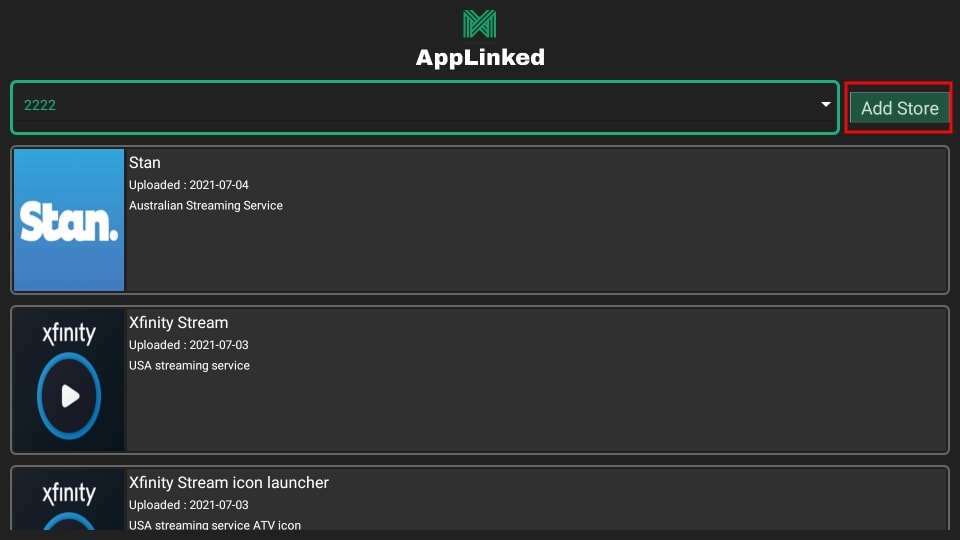 2. In the pop-up, select the input box that says Your Code Here.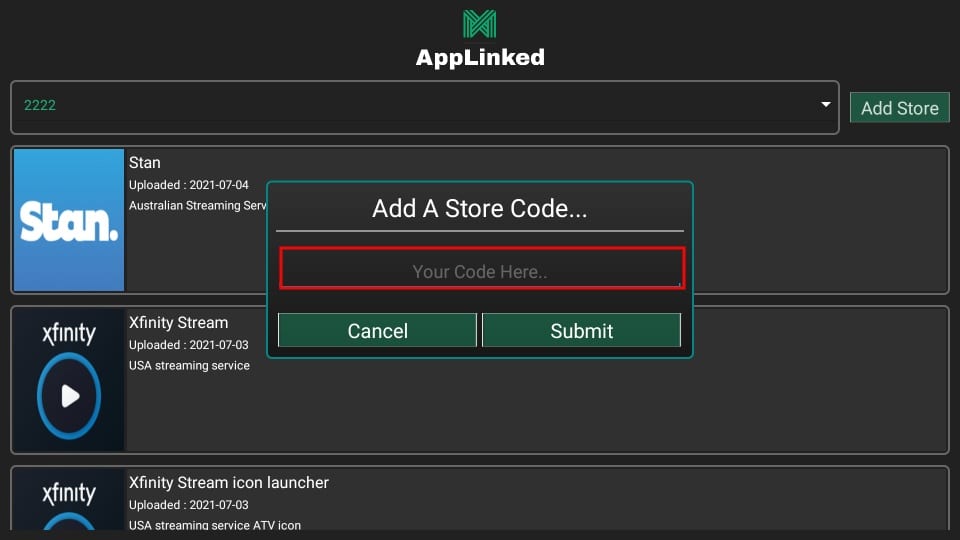 3. Now, type the code and click Submit. I'm using 5555 for this example.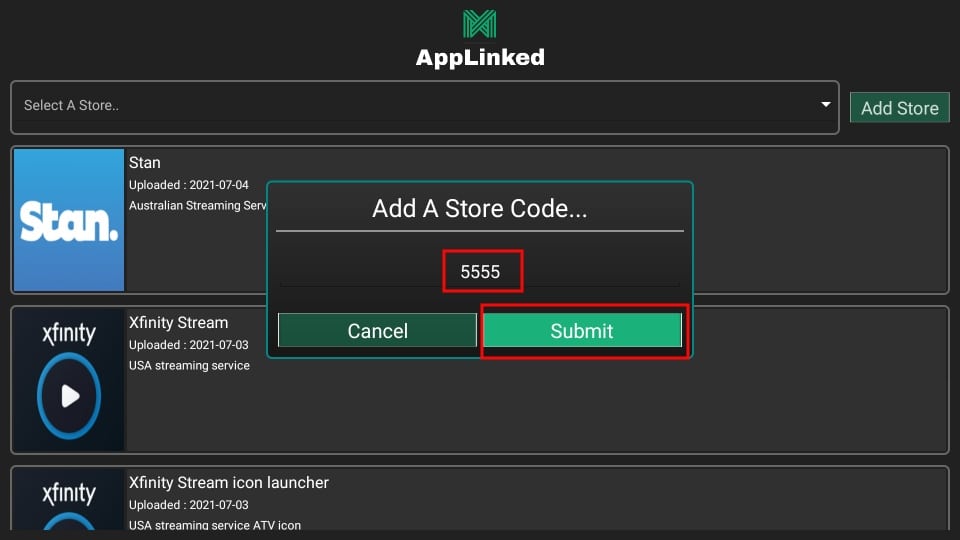 4. Navigate to the drop-down box that says Select A Store. Then click on the code you just submitted.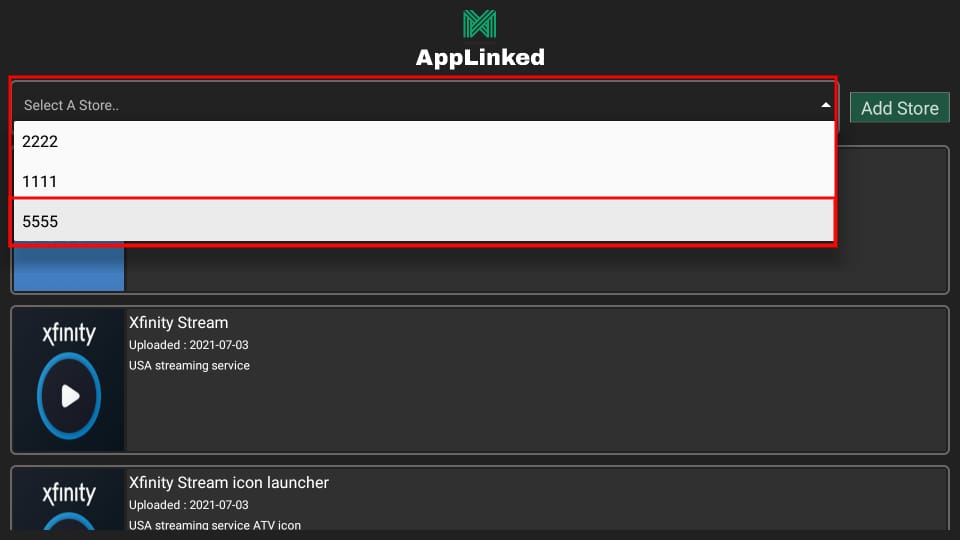 5. Among the list of apps, select one you want to install and click on it.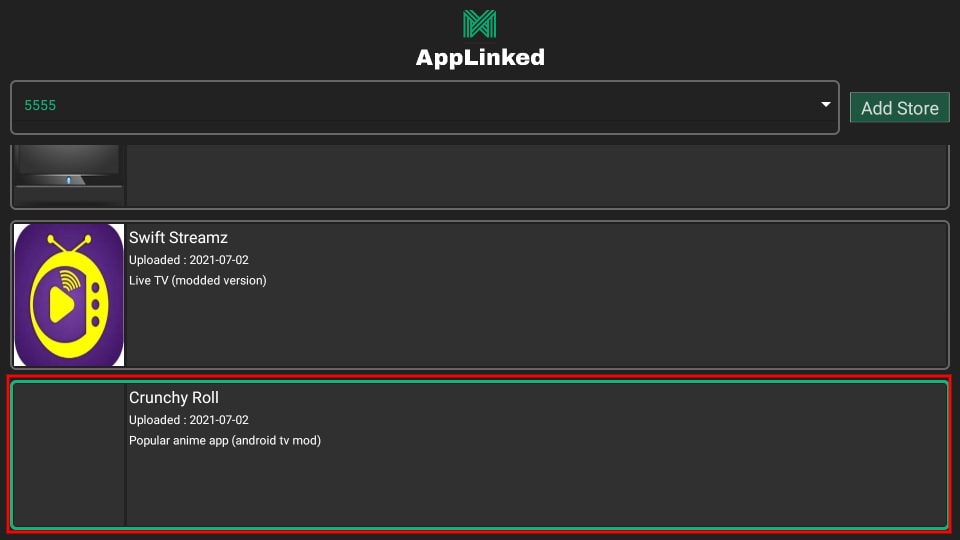 6. Select Download and wait for it to complete.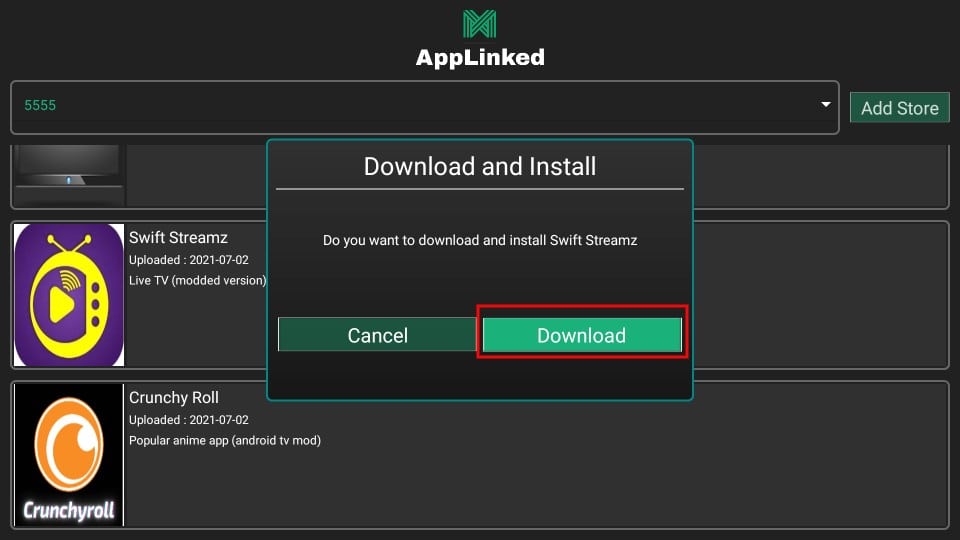 7. Follow the usual installation procedure and you're done!

Live Net TV
Live Net TV is an excellent alternative providing thousands of live channels in numerous genres in multiple countries and languages.
This free IPTV app features channel categories such as 24/7,  News, Sports, Cooking, Music, Kids, Religious, and Entertainment all for free.
View our information and how to install this great application.
How to Install Live Net TV

Crackstreams
Crackstreams is an excellent service providing sporting main events and live up to date sporting leagues. 
This free IPTV app features NBA Streams, NFL Streams, NHL Streams, MLB Streams, MMA/UFC Streams, Boxing Streams and NCAA Streams
View our information and how to install this great application.
How to Install Crackstreams
XUMO
XUMO may be more popular for its VOD offerings, but this streaming app also has Live TV options that are some of the best available today.
With more than 200 different channels, viewers can enjoy unlimited entertainment from breaking news coverage to stand up comedy shows.
Check out our XUMO guide below for more details on the free app.
XUMO Review & How to Install

Pluto TV
Pluto TV is one of the most popular Streaming Apps available today when it comes to streaming Live TV for free.
This service offers hundreds of free channels in various categories but is ad-supported.
Refer to our Pluto TV review below for more information and how to install the app.
Pluto TV Review & How to Install

Peacock TV
Peacock TV has stormed the streaming scene since its arrival in 2020. This free application is a perfect Mobdro alternative.
This popular streaming app contains an impressive lineup of live channels, movies, TV series, NBC original programming, and much more.
For more information on plan details, pricing, and more, view our in-depth Peacock TV tutorial.
Peacock TV Review & How to Install

Airy TV
Airy TV is becoming a popular free IPTV app that hosts hundreds of channels and is consistently adding more to their lineup.
In addition to the application, you can directly use Airy TV straight from your browser without signing up or subscribing to any plan.
View the link below for more details on Airy TV and how to install the app.
How to Install Airy TV
Start times:
And Everthing you need to know!
 In the US and Canada – The PPV event starts at 6pm Sept 11, 2021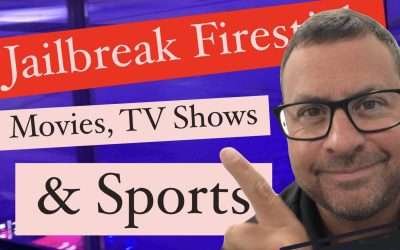 25+ Best APK's available for Download Welcome to the Led by the Unknown download page, We are bringing you the Best APKs for Movies, TV Shows, Live TV and Sport! You can always count on us to bring you the most dependable alternatives for streaming content. This list...
Stay Up to Date With The Latest News & Updates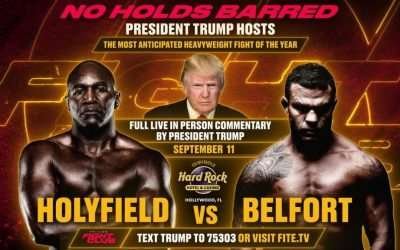 Evander Holyfield vs Vitor Belfort – How to Watch, Odds, and More This guide will show you how to watch Evander Holyfield vs Vitor Belfort online from anywhere. These two boxing/MMA icons are squaring up this Saturday, September 11 in Miami, Florida at the Hard...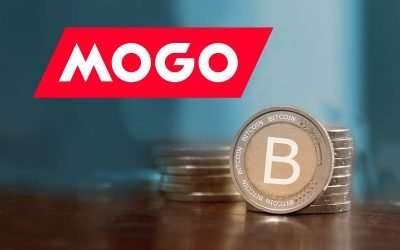 GET FREE BITCOIN The smart way to Invest!MOGO, the smart way to invest in BITCOIN, they have made it extremely easy and secure.  No annual fees. Sign up and receive $10 of free BITCOIN. The future of money, Gold 2.0. Did you know that $10 of bitcoin in 2010 is...
Stay up to date to the latest articles made within Led By The Unknown. The newest technology. The best apps and software. Latest sales.