Let's Celebrate Alexa's Birthday with Amazing Amazon Deals
Get the best Amazon deals during Alexa's Birthday BASH! 
Amazon discounting many of the Alexa devices, check out to see the lastest and greatest.
Celebrate this big day, and get up to 50% off the most popular devices.
Savings on smart home upgrades like the Echo Dot and Blink Security Camera, as well as offers on gift-worthy entertainment items like Fire TV Sticks and select Kindles, also on the table. There are also discounts on some of Amazon's newest devices, such as the Amazon Smart Home Thermostat package, which is now on presale and won't be distributed until November 4.
So, whether you want to better your streaming game or your home security system, you can save money on a smart Amazon device that can help you achieve both. We've compiled a list of all the deals worth adding to your basket from Alexa's big birthday sale, which you can find below.
Amazon Fire TV Sticks, a cord cutters dream!  Check out the new Fire TV Stick 4K Max!



The Amazon Firestick has become the most popular Streaming Device available today due to its low price and simple jailbreak process.
What is a Firestick Jailbreak?
Jailbreaking a Firestick is the process of removing restrictions imposed by the manufacturer to allow for the installation of unauthorized software.
When we do this, we can install 3rd party applications not available within the Amazon App Store.
Once we jailbreak a Firestick, we can sideload applications onto the device that we normally can't get through the Amazon App Store.
By doing so, your Firestick will have access to thousands of free movies, TV shows, live channels, sports, and more.
This is a safe process and only involves changing a few security settings on the Firestick or Fire TV.
 IMPORTANT NOTE: In addition to using a VPN, you may need to sign up for a service that offers subscriptions.
New Echo Buds – 2nd Gen
If you didn't know, Amazon makes its own wireless earphones with practically every function you could want. Crisp sound and Active Noise Cancellation are provided by the lightweight, sweat-resistant buds. You don't even need to take your phone out of your pocket to control what you're listening to because they're Alexa-enabled. You may ask Alexa to play a podcast, increase the volume, or even contact your mother by just saying "Hey, Alexa."
Echo 4th Gen
Amazon's Echo isn't just a smart speaker; it's also a personal assistant. It can be connected to your other compatible devices so you can use voice commands to manage the lighting and temperature in your home. It also features a modern style that will easily mix in with the rest of your home's décor.
All-New Insignia NS-55F501NA22 55-inch F50 Series Smart 4K UHD QLED Fire TV, Released 2021
Upto 34% off the Alexa 4K 55′ TV  QLED Display: Quantum Dot technology generates highly saturated and finely defined colours, resulting in vibrant, powerful images.
Enjoy magnificent HDR10 4K movies and TV programmes with four times the resolution of Full HD, and upscale your existing material to Ultra HD-level visual quality.
Alexa voice control: Use your voice to manage your entertainment, search across applications, switch inputs, and more with the Alexa Voice Remote. Ask Alexa to effortlessly search, launch, and control content, as well as switch to cable, by pressing and holding the voice button.  With access to thousands of channels, apps, and Alexa skills, including Prime Video, Netflix, Hulu, HBO Max, YouTube, Apple TV+, Disney+, ESPN+, Sling TV, Paramount+, and other services, you can watch over 1 million streaming movies and TV episodes right from your TV.* Narrow bezel: The sleek design elevates your entertainment experience by focusing your attention on the screen.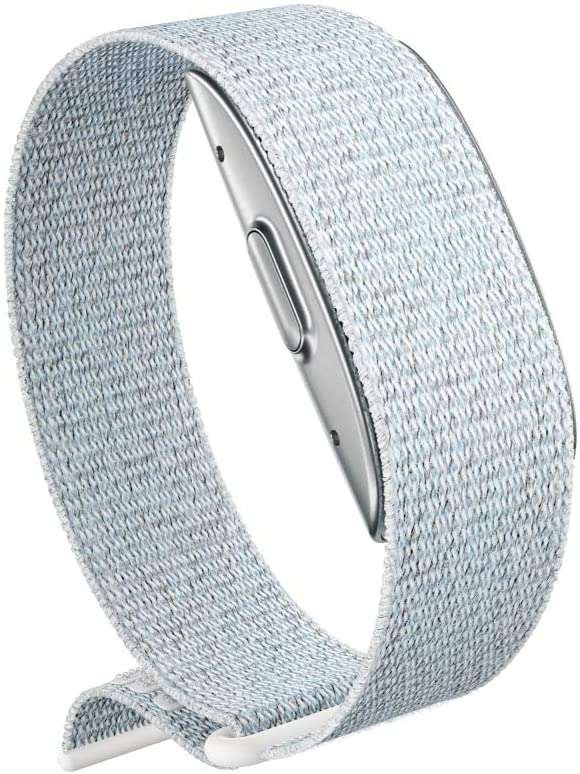 Amazon Halo Band fitness and sleep tracker
Basic capabilities like as steps, heart rate, sleep duration, and sleep monitoring are included on the Halo Band. The Halo Band is swimproof and water resistant to a depth of 50 metres.
Access to the complete spectrum of tools, features, exercises, and programmes is included with membership. For the next six months, it's free. $3.99/month + tax auto-renews. Visit Your Account Memberships & Subscriptions to manage your membership.
Get active – Activity monitoring depending on intensity, as well as a growing collection of programmes from specialists like Lifesum and SWEAT. Measure, assess, and improve your movement health with these tools! Measure the amount and quality of your sleep, as well as daily meditations from experts like Headspace and 450+ recipes from partners like Whole Foods, to help you feel your best.
Expand your knowledge — Body Composition is a stronger determinant of health than weight or BMI alone since it measures body fat proportion. Tone of voice analysis may help you understand how you sound to others, which can help you improve your communication.
Ask your Alexa-enabled device to tell you your health summary, activity score, sleep quality, and more. Halo works with Alexa. To activate "Connect Alexa," go to the Halo app's settings and select "Connect Alexa."
All-new Echo Show 8 (2nd Gen, 2021 release) | HD smart display with Alexa and 13 MP camera | Glacier White
Alexa can show you even more, thanks to an 8-inch HD touchscreen, adaptive colour, and stereo speakers that bring entertainment to life. With a 13 MP camera that employs auto-framing to keep you focused, you can make video calls.
Stay in the frame – Make video calls with a new camera that automatically frames and centres. Simply ask Alexa to make a phone call to one of your contacts.
Make your life at home easier – Examine your calendars and to-do lists. Set timers, update lists, and get news and traffic updates with your voice.
Manage your smart home – Use the built-in camera to check in on your home while you're away. Using the interactive display, your voice, or your movements, you may control compatible devices including cameras, lighting, and more.  Enjoy HD and stereo TV shows and movies with Prime Video, Netflix, and other services. Alternatively, you may ask Alexa to play Amazon Music, Apple Music, or Spotify. Some services need subscriptions.
Use Amazon Photos to transform your home screen into a digital frame and exhibit your memories. Your favourite images will appear amazing in any light thanks to adaptive colour.
Amazon is not in the business of selling your personal information to outsiders, thus this feature was created to preserve your privacy. Multiple levels of privacy protections, such as a mic/camera off button and a built-in camera shutter, are included.
Echo Frames 2nd Gen Smart audio glasses with Alexa Classic Black
Make calls, create reminders, add to to-do lists, receive the news, listen to podcasts, or operate your smart home from anywhere by asking Alexa.
Open-ear audio – Echo Frames direct sound to your ears while reducing the amount of sound that is heard by others. They may also alter the volume according on the degree of noise in your area.
VIP Filter – Choose which alerts you want to receive from important contacts and applications on your phone.
Echo Frames are lightweight, splash-resistant, and compatible with most prescription lenses, making them ideal for all-day usage. Nearly a 14-hour day, get over 2 hours of chat time, Alexa interactions, and media playing. On a full charge, you can listen for up to 4 hours continuously.
Performs even better – From a compatible device, you may use Google Assistant and Siri.
Amazon is not in the business of selling your personal information to outsiders, thus this feature was created to preserve your privacy. Microphones in the frames are meant to respond to the wearer's voice and switch off with a double-press of a button.
Kindle Kids, a Kindle designed for kids, with parental controls
Up to a $219 value, this package includes a Kindle (10th generation), 1 year of Amazon Kids+ (FreeTime Unlimited), a kid-friendly cover, and a 2-year worry-free warranty.
The Kindle Kids is a reading device (not a toy), featuring a glare-free black and white display and weeks of battery life. It works differently from a tablet since it's designed for reading books. There are no games, adverts, or movies, so there are no distractions.
Kids may discover popular titles and programmes with the included year of Amazon Kids+. After the first year, your subscription will automatically renew every month for $2.99 + applicable tax. You can cancel your subscription at any time by going to the Amazon Parent Dashboard or calling Customer Service. The full Harry Potter series is available on Amazon Kids+, as well as the first book from other famous series like Artemis Fowl. Additional novels are available for purchase in the Kindle Store for parents.
You may bring the library with you. Kindle Kids has over a thousand Amazon Kids+ titles and may last for weeks on a single charge.
Return it within the first two years if it breaks, and we'll replace it for free.
Now available on Audible. To listen to your narrative, use Bluetooth headphones or speakers.
All-new Fire HD 10 tablet, 64 GB, Black + Bluetooth keyboard + 12-month Microsoft 365 Personal subscription
With a Fire HD 10 tablet, Bluetooth keyboard with removable cover, and a 12-month Microsoft 365 Personal subscription, you can get more done.
With a strong octa-core CPU and 3 GB RAM, the Fire HD 10 tablet is quick and responsive. 50% more RAM than the previous generation
Includes a 12-month Microsoft 365 Personal subscription, which includes premium Office apps (Word, Excel, PowerPoint, OneNote, Outlook, OneDrive, Skype), advanced security for files and photos stored on OneDrive cloud storage, and 1 TB of OneDrive cloud storage—for up to 5 compatible devices at once. Yearly auto-renewal at the relevant cost. Comes with a brand-new Bluetooth keyboard with removable casing that is well-balanced for stability and typing pleasure. Makes checking email, surfing, and taking notes even more convenient. Built-in 400-hour rechargeable battery with extra-long life. Charges are made individually.
With more than 2 million pixels, the Vivid 10.1″ 1080p Full HD display is 10% brighter than the previous model.
Keep in touch with friends and family by downloading applications like Zoom or asking Alexa to initiate video calls.
Netflix, Facebook, Hulu, Instagram, TikTok, and other popular apps are available through Amazon's Appstore (Google Play is not supported). Some applications require a subscription).
Echo Glow – Multicolor smart lamp for kids, a Certified for Humans Device
A child-friendly light – Control colour and brightness with your voice using any Alexa-enabled device.
Certified for Humans – No hassles, no tinkering, no worry. There's no need to be patient—actually it's rather straightforward.
Create lighting signals that aid with counting down to dinnertime or establishing a reading timer to make family rituals more vibrant.
Children have the ability to create and select. – While playing or listening to music, give youngsters the opportunity to add colour and creative lights.
Unlock the magic of the Rainbow Timer – As the colours of the rainbow change, children are given a visual reminder that can help them remain on track with their morning and night rituals.
Create and select – Allow children to add bright lighting or ask Alexa
Fire HD 8 tablet Gaming Bundle including Fire HD 8 tablet (Black, 32 GB), Lockscreen Ad-Supported, 8″ HD display, and Luna Controller
This package contains an Amazon Fire HD 8 tablet and the Luna Controller, a high-performance controller designed for Amazon's cloud gaming service Luna. (Subscriptions to Luna are offered individually.)
On Fire Tablets, download the Luna App to stream Luna games straight from the cloud to your displays and get a 7-day free trial of Luna Plus. After the free trial, the subscription renews at $5.99 per month.
Play games like "Control," "Overcooked! 2," and "Metro Exodus" from Luna's growing library, and use Amazon's Appstore to access your favourite applications like Netflix, Facebook, Hulu, Instagram, TikTok, and more. Some applications require a subscription). A high-performance controller designed for Amazon's cloud gaming service will improve your Luna gaming experience. When playing on Luna, the Luna Controller uses Cloud Direct technology to connect directly to Amazon's bespoke game servers.
Fast and responsive – 8″ HD display, 32 GB internal storage expandable to 1 TB via microSD card + 2 GB RAM The tenth generation (2020 release).
The battery life on the Fire HD 8 is up to 12 hours, which means you can read, browse the web, watch movies, and listen to music all day.
Play games outside of Luna on your Fire HD 8 with the Luna Controller connected via Bluetooth or USB, or pair with various Windows PC, Mac, and Android devices.
LEDBYTHEUNKNOWN does not own or operate any IPTV service. LEDBYTHEUNKNOWN does not receive any revenue or affiliate commissions from any service. We don't know if a service or website holds the proper licensing for the channels that they deliver. Always use a VPN with unverified IPTV services/websites as their servers may be insecure.
Step 1 – Register for an account at IPVANISH by clicking HERE.
Step 2 – From the home screen hover over Find.
Step 3 – Scroll down and click Search.
Step 4 – Type in "IPVanish" and click the first option.
Step 5 – Click the IPVANISH VPN app.
Step 7 – Once the IPVANISH app installs, click Open.
Step 8 – Create account through this link if needed.  Click Here
Step 9 – Input your IPVANISH username and password and then click Login.
Step 10 – Click the CONNECT button.
Step 11 – If you receive a VPN connection request such as this, click OK.
Step 12 – Click the Disconnect button to stop service.
Settings – Scramble
1. From the home screen of your device, hover over the Find option.
2. Click Search.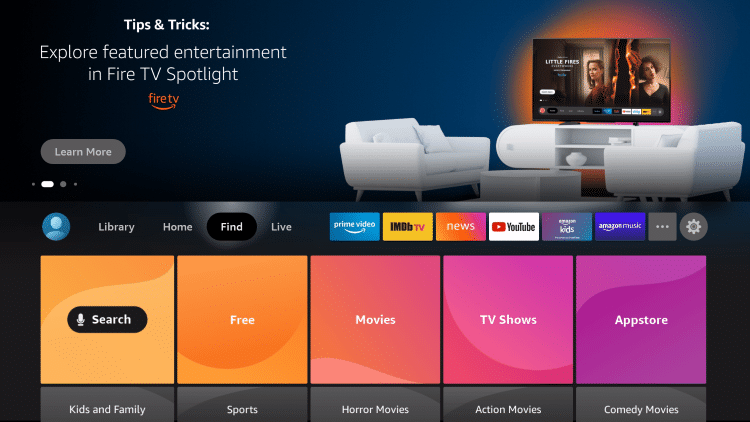 3. Search for and select Downloader.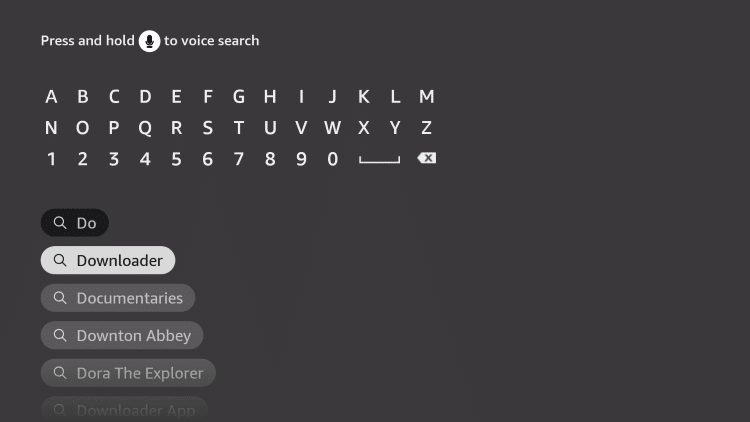 4. Choose the Downloader app.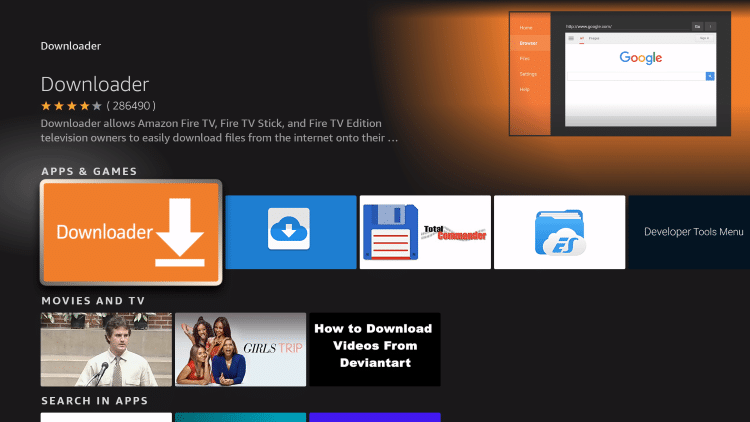 5. Click Download.
6. Wait for the app to install.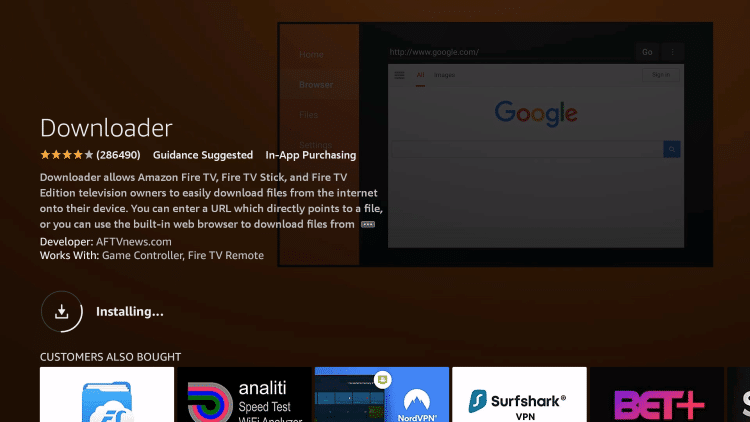 7. You will then encounter Downloader Ready to launch message.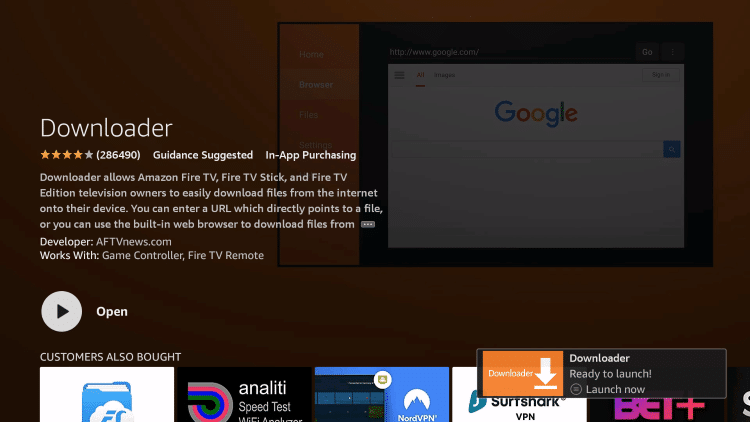 8. Return to the home screen and open Settings.
9. Click My Fire TV.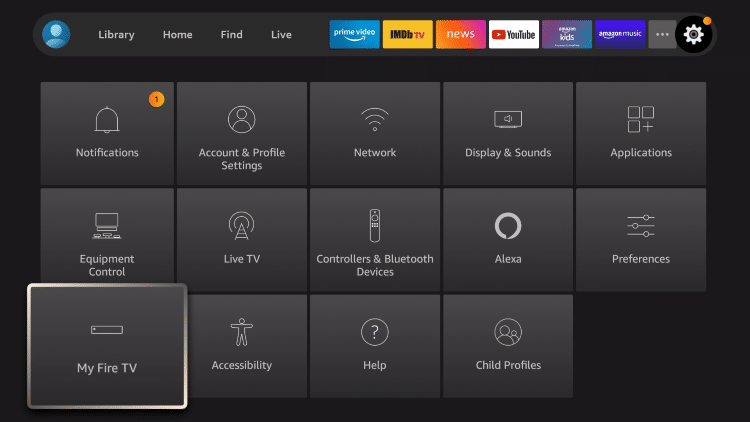 10. Choose Developer options.
11. Click Install unknown apps.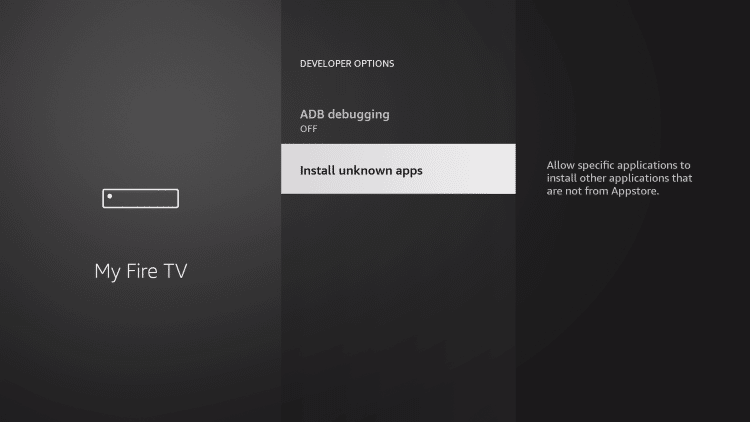 12. Find the Downloader app and click it.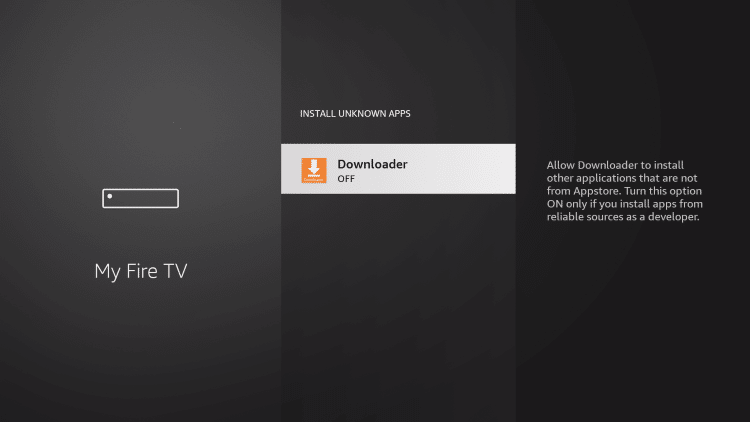 13. This will turn Unknown Sources to On for the Downloader app. This will enable side-loading or "jailbreaking" abilities on your device.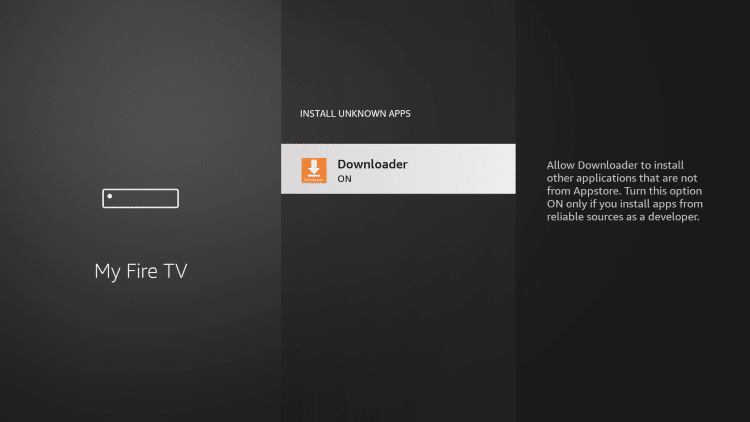 Part 2: Installing AppLinked on FireStick
Let's install AppLinked on your FireStick device using the Downloader app. 
1. Launch Downloader.
2. Select the input box that says Enter a URL.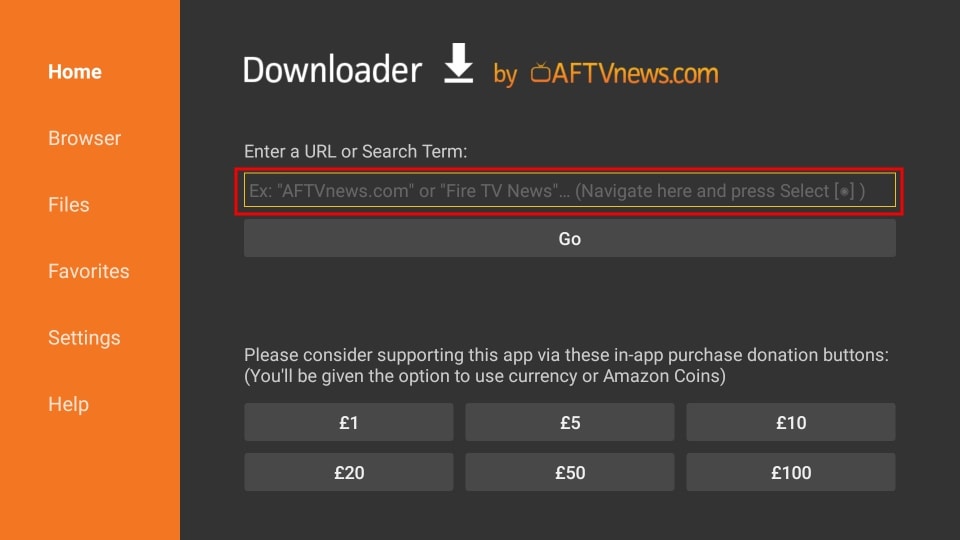 3. Enter https://bit.ly/3xSeyGA in the box and click Go. The URL is case-sensitive, so make sure you typed it correctly. Please note that the screenshot below shows the original URL, but you may use the shorter URL I just mentioned in this step.
Note: Ledbytheunknown.com doesn't own, host, or distribute this APK. The URL above redirects to i4studio.co.uk, where the APK is hosted.
4. Now, wait for the APK to download.
5. Once the APK is downloaded, click INSTALL.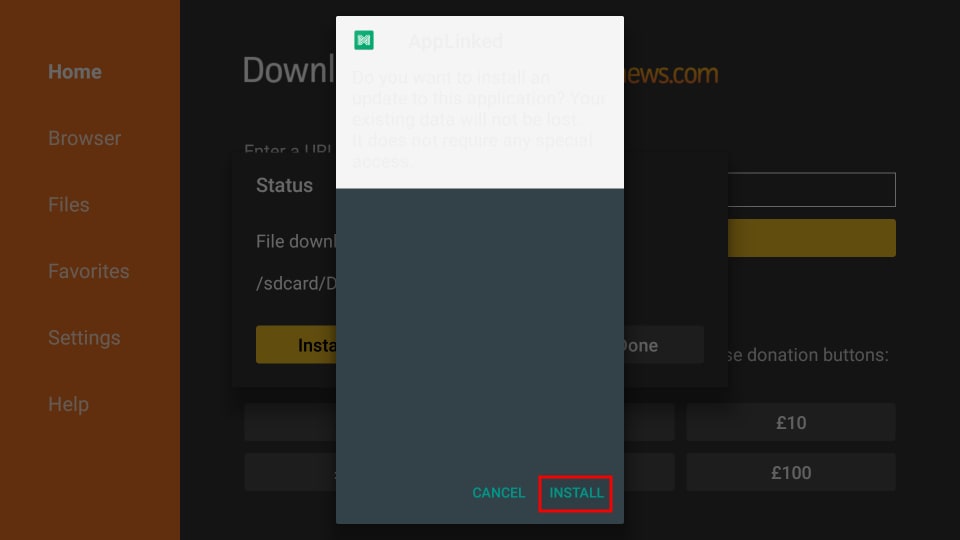 6. Wait for the installation to complete and click DONE.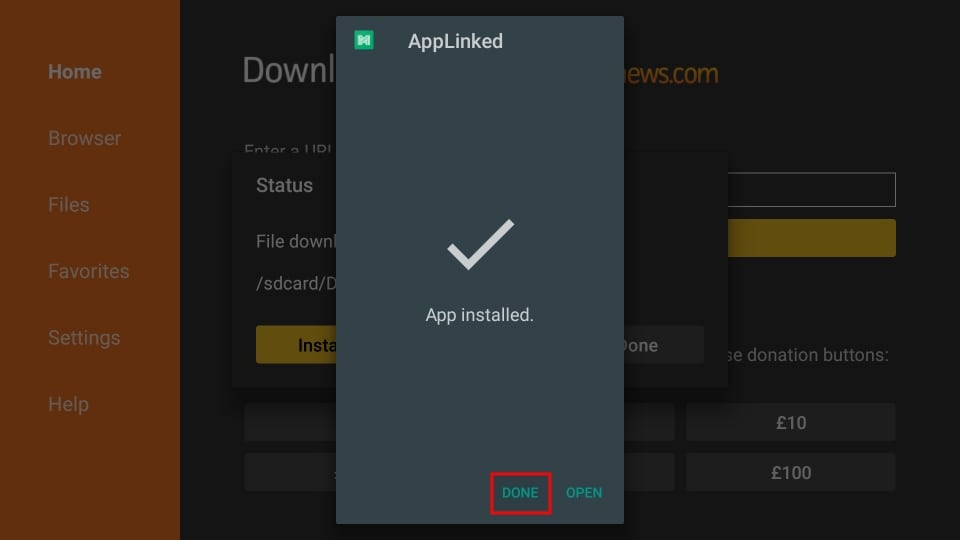 7. Since AppLinked is already installed, you don't need the AppLinked APK hereafter. So click on Delete.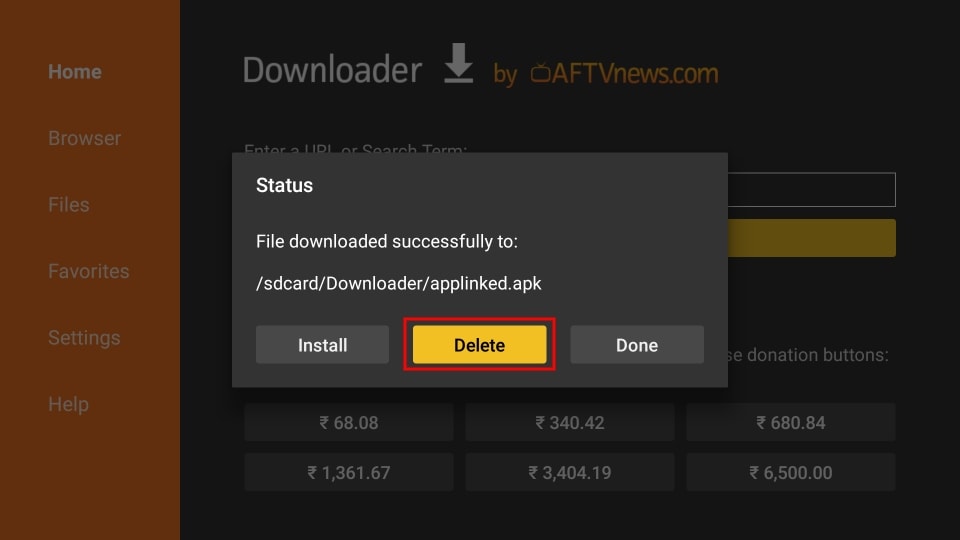 8. Click Delete again.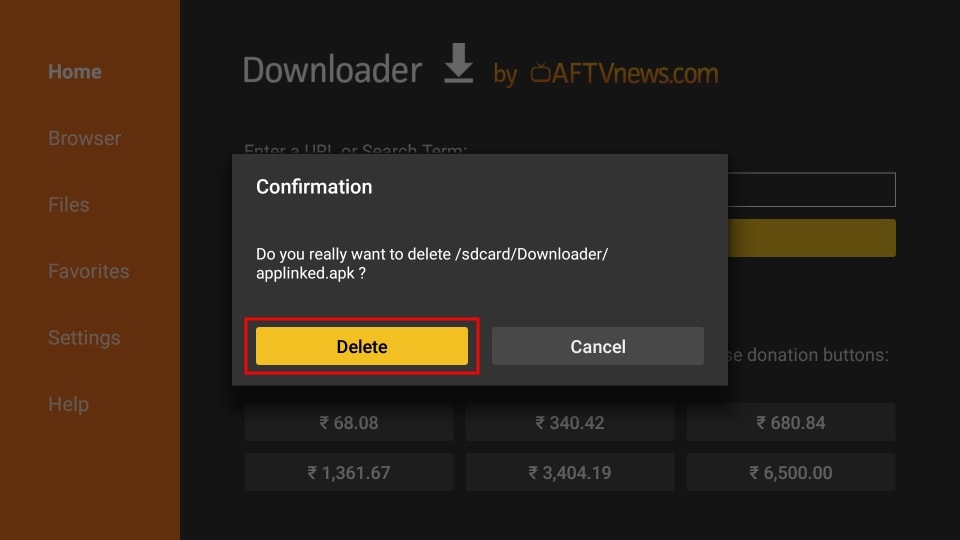 How to Add AppLinked to Your FireStick Home Screen
1. On your Firestick home screen, select the three-tile icon as highlighted below.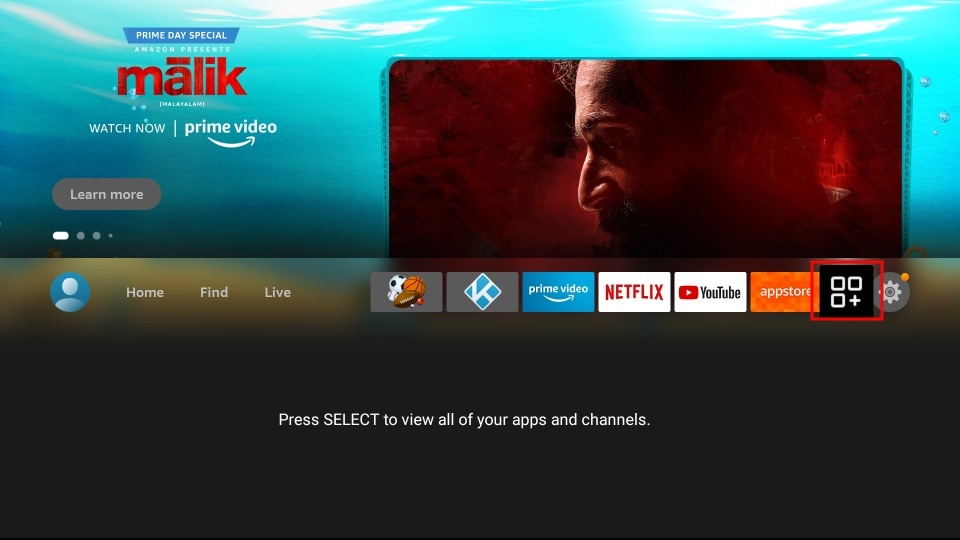 2. Scroll to AppLinked and press the menu button on your FireStick remote.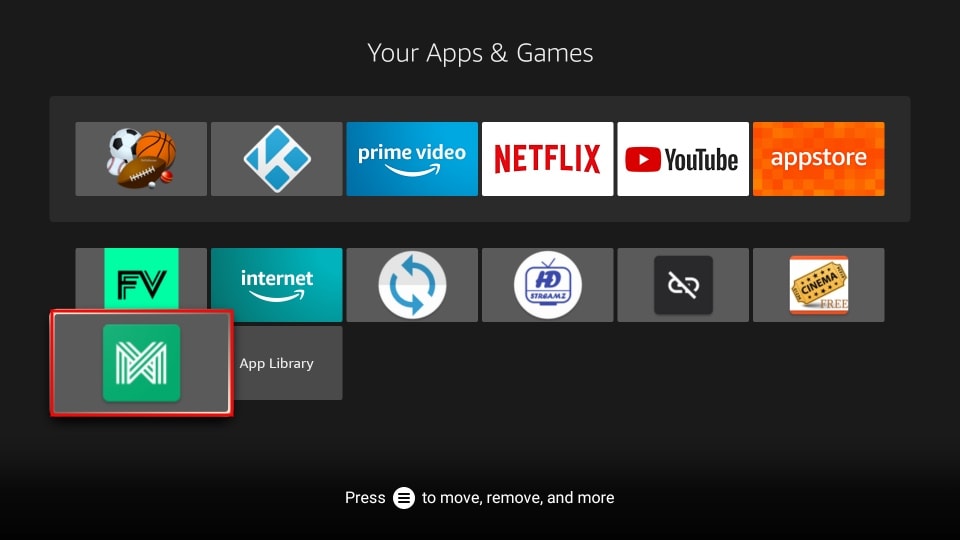 3. Select Move.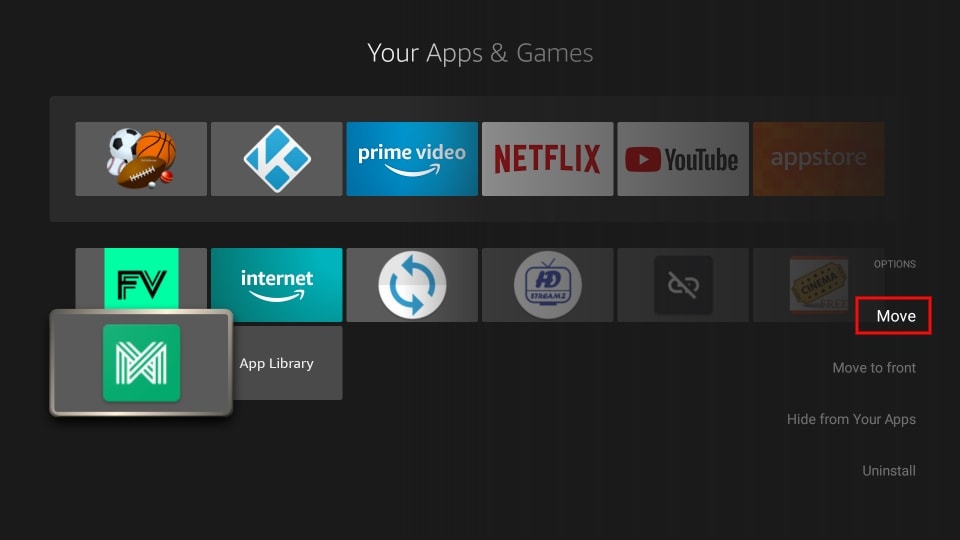 4. With the navigation buttons, move the app to the top row. Press the select button on your remote to set the new position.
5. There you have it! AppLinked is now ready to use from your home screen.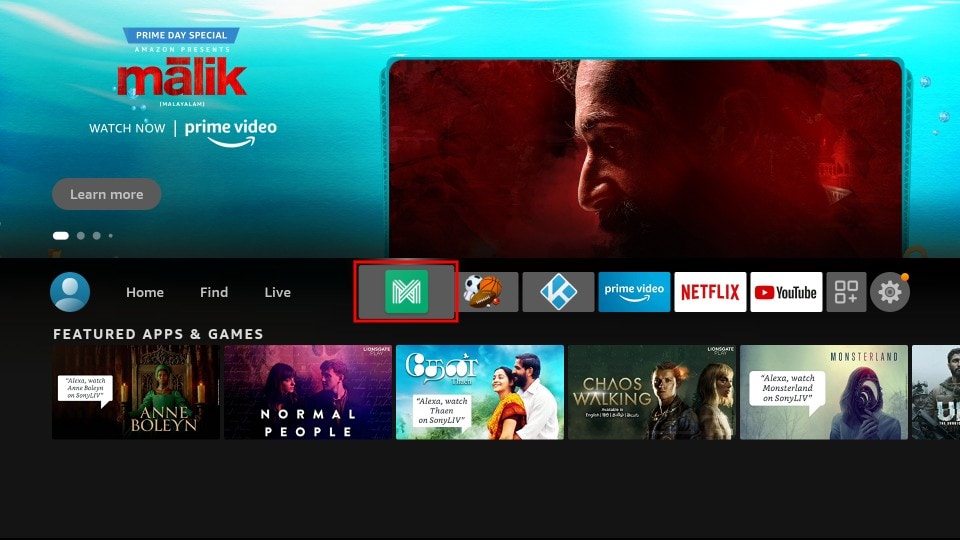 How to Use AppLinked on FireStick
When you launch the AppLinked app, you're taken to a home screen that looks like this.
As you can see, the interface is pretty minimal and doesn't have much to explore or tweak. If you know what code you want to use, go for it! Or you can try out some of the codes I mention below these instructions. Once you enter a store code, the app will save it automatically, so you don't need to type it out every time to browse through the same code.
To install apps with AppLinked codes, here's what you need to do.
1. Click Add Store on the top right.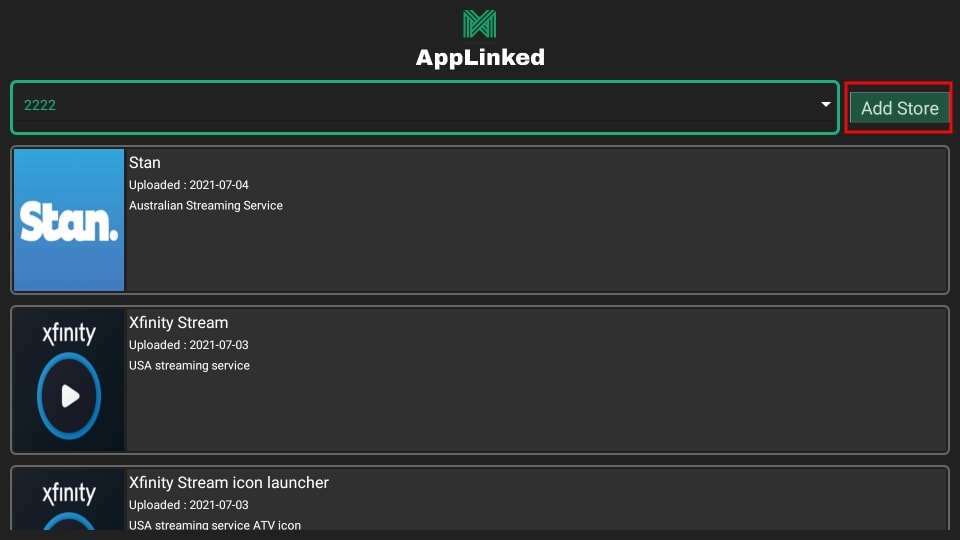 2. In the pop-up, select the input box that says Your Code Here.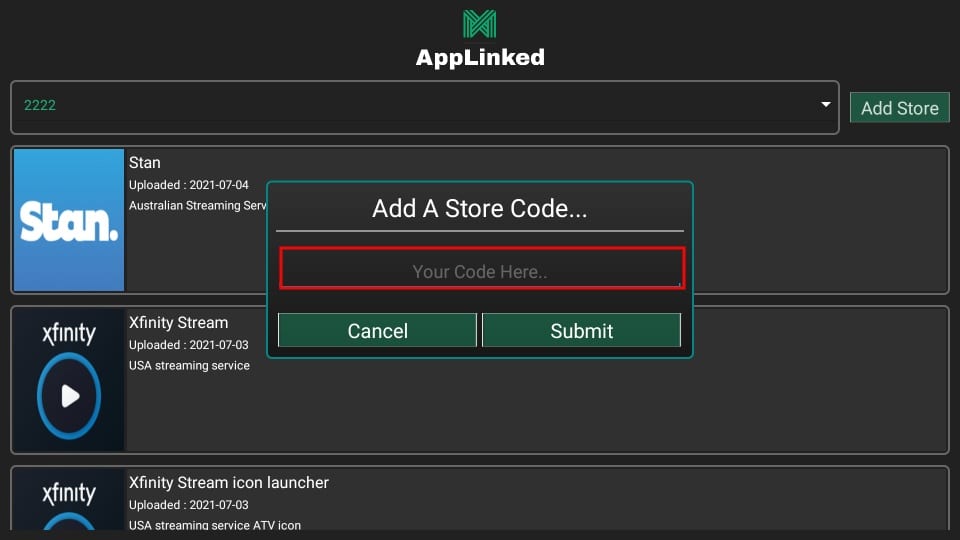 3. Now, type the code and click Submit. I'm using 5555 for this example.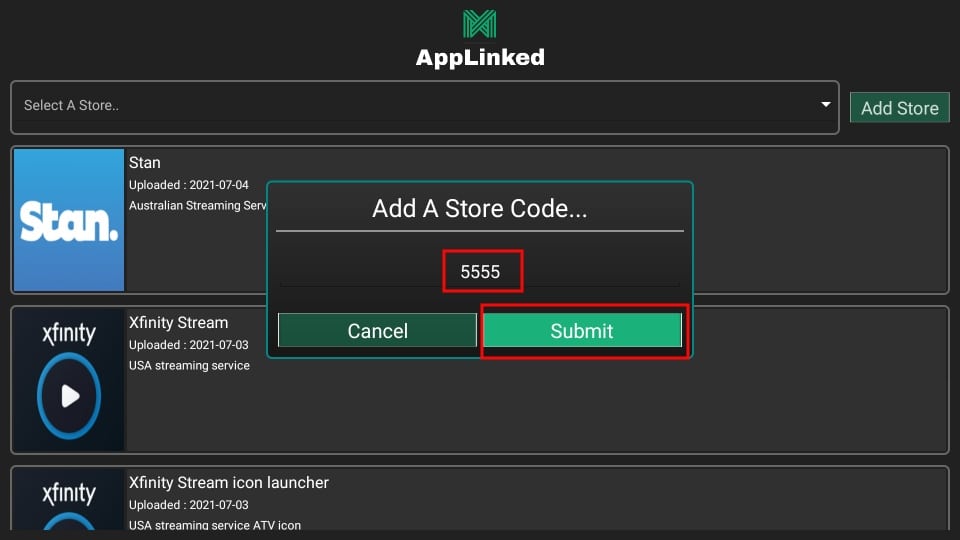 4. Navigate to the drop-down box that says Select A Store. Then click on the code you just submitted.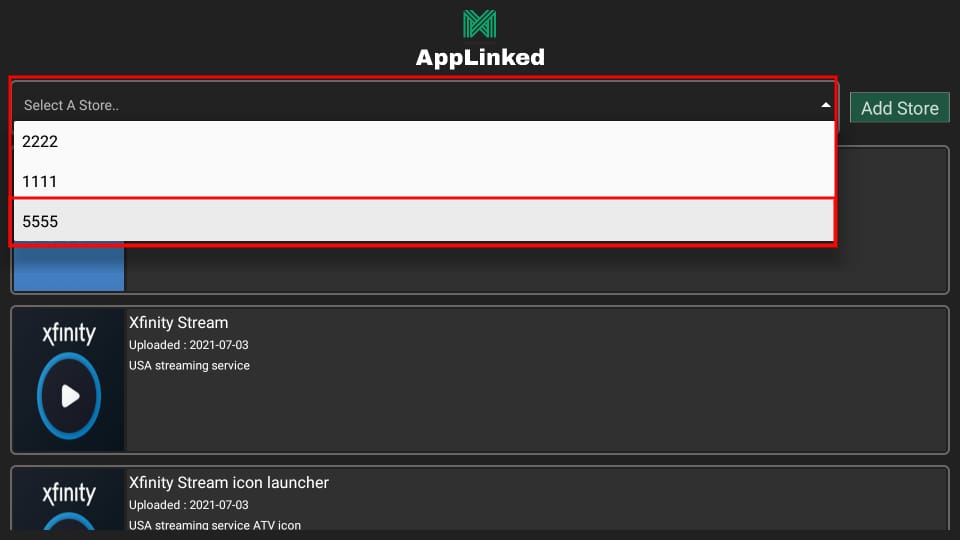 5. Among the list of apps, select one you want to install and click on it.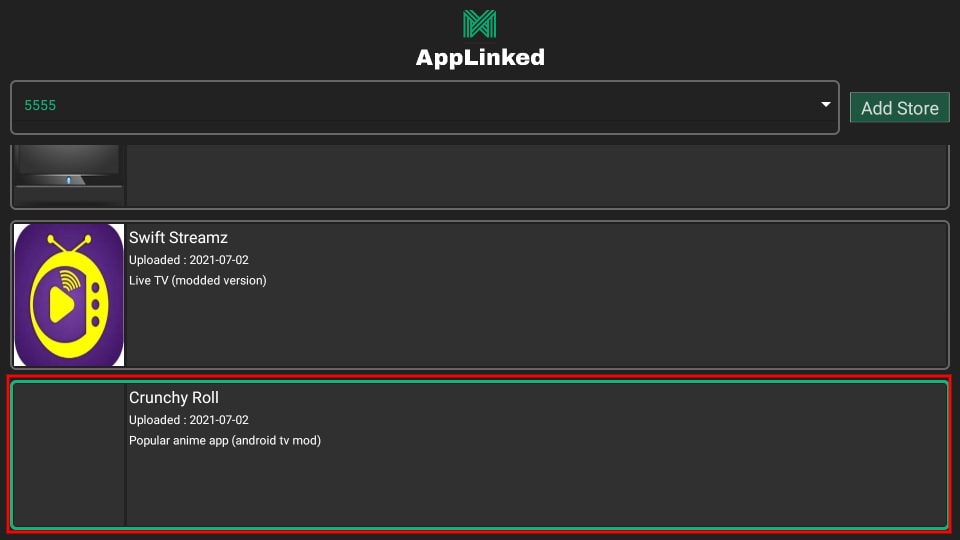 6. Select Download and wait for it to complete.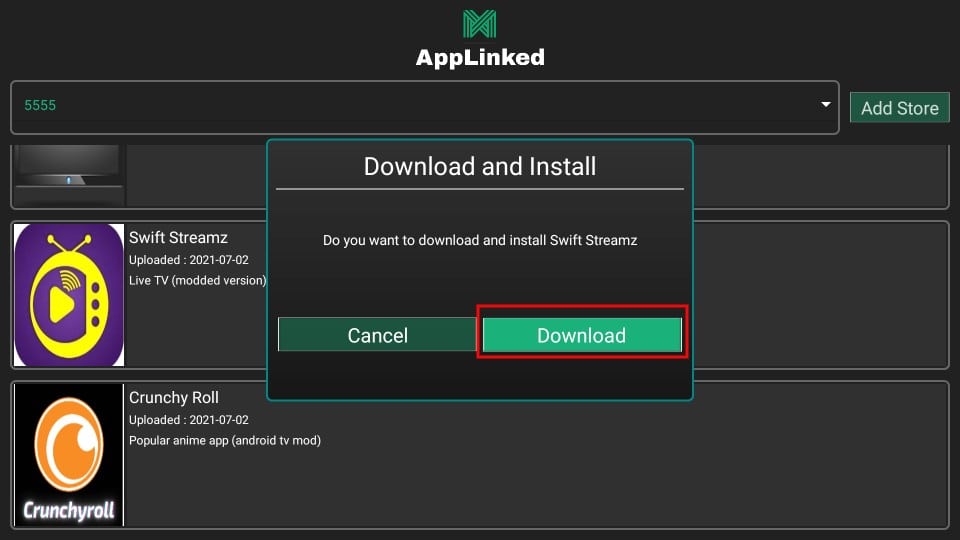 7. Follow the usual installation procedure and you're done!

Live Net TV
Live Net TV is an excellent alternative providing thousands of live channels in numerous genres in multiple countries and languages.
This free IPTV app features channel categories such as 24/7,  News, Sports, Cooking, Music, Kids, Religious, and Entertainment all for free.
View our information and how to install this great application.
How to Install Live Net TV

Crackstreams
Crackstreams is an excellent service providing sporting main events and live up to date sporting leagues. 
This free IPTV app features NBA Streams, NFL Streams, NHL Streams, MLB Streams, MMA/UFC Streams, Boxing Streams and NCAA Streams
View our information and how to install this great application.
How to Install Crackstreams
XUMO
XUMO may be more popular for its VOD offerings, but this streaming app also has Live TV options that are some of the best available today.
With more than 200 different channels, viewers can enjoy unlimited entertainment from breaking news coverage to stand up comedy shows.
Check out our XUMO guide below for more details on the free app.
XUMO Review & How to Install

Pluto TV
Pluto TV is one of the most popular Streaming Apps available today when it comes to streaming Live TV for free.
This service offers hundreds of free channels in various categories but is ad-supported.
Refer to our Pluto TV review below for more information and how to install the app.
Pluto TV Review & How to Install

Peacock TV
Peacock TV has stormed the streaming scene since its arrival in 2020. This free application is a perfect Mobdro alternative.
This popular streaming app contains an impressive lineup of live channels, movies, TV series, NBC original programming, and much more.
For more information on plan details, pricing, and more, view our in-depth Peacock TV tutorial.
Peacock TV Review & How to Install

Airy TV
Airy TV is becoming a popular free IPTV app that hosts hundreds of channels and is consistently adding more to their lineup.
In addition to the application, you can directly use Airy TV straight from your browser without signing up or subscribing to any plan.
View the link below for more details on Airy TV and how to install the app.
How to Install Airy TV
Start times:
And Everthing you need to know!
 In the US and Canada – The PPV event starts at 6pm Sept 11, 2021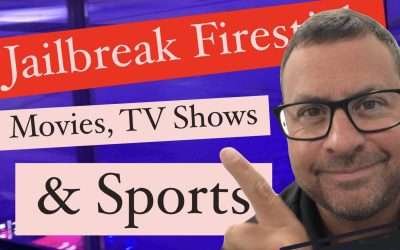 25+ Best APK's available for Download Welcome to the Led by the Unknown download page, We are bringing you the Best APKs for Movies, TV Shows, Live TV and Sport! You can always count on us to bring you the most dependable alternatives for streaming content. This list...
Stay Up to Date With The Latest News & Updates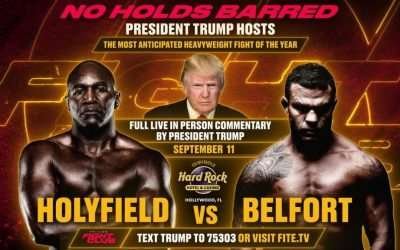 Evander Holyfield vs Vitor Belfort – How to Watch, Odds, and More This guide will show you how to watch Evander Holyfield vs Vitor Belfort online from anywhere. These two boxing/MMA icons are squaring up this Saturday, September 11 in Miami, Florida at the Hard...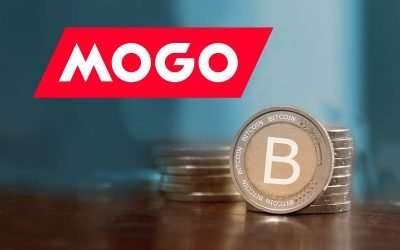 GET FREE BITCOIN The smart way to Invest!MOGO, the smart way to invest in BITCOIN, they have made it extremely easy and secure.  No annual fees. Sign up and receive $10 of free BITCOIN. The future of money, Gold 2.0. Did you know that $10 of bitcoin in 2010 is...
Stay up to date to the latest articles made within Led By The Unknown. The newest technology. The best apps and software. Latest sales.