Netflix Just launched a sweet new feature to help you find new shows.
This new feature from Netflix's will automatically play something to watch based on your interests.
Netflix is launching its new "Play Something" option today (April 29), a new universal feature to all users which suggests content based on their habits.
"Play Something" is now available in Netflix's app, sitting underneath your profile when you log in, in the tenth row of Netflix's homepage and on the left-side where the navigation bar rests.
TV series marathons or an evening of popcorn and streaming movies — sometimes we simply cannot figure out what to pick next from the latest of Netflix's extensive catalog. Not to worry, as Netflix's sweet new button comes in handy.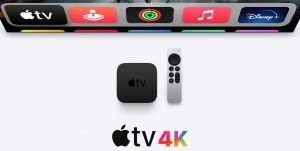 Apples New 4k TV
Instead of scrolling through crap loads of unwanted content, the new feature takes your existing preferences in shows and movies to deliver titles that it thinks will suit your needs.
The algorithm suggestions from new movies, series in your watchlist and titles you may have started, but still have not finished. In other words, it learns about your tastes from a variety of different sources.
Users who click the button are shown a movie or TV show that was suggested based on the Netflix algorithm. If it does not look interesting, users can click "play something else" and get a new recommended show, movie, unfinished show or movie on their watch list.
The button will appear under the users' profile name on the log-in screen, in the navigation menu to the left, and on the Netflix homepage. Netflix is rolling out the feature for TVs first and will start testing for mobile devices soon.
Netflix has been testing this shuffle feature for several months now, on TVs, so some users have already become familiar with the button. The company said in its fourth-quarter 2020 earnings release that customer response to "play something" has been positive.
The company had 208 million paid subscribers at the end of the first quarter of 2021.
This page includes affiliate links where LEDBYTHEUNKNOWN may receive a commission at no extra cost to you. Many times, you will receive a discount due to the special arrangements made for our visitors. I will never promote something that I personally don't use or recommend. Purchasing through my links directly supports LEDBYTHEUNKNOWN which keeps the content and tools coming. Thank you!
 IMPORTANT NOTE: In addition to using a VPN, you may need to sign up for a service that offers subscriptions.
LEDBYTHEUNKNOWN does not own or operate any IPTV service. LEDBYTHEUNKNOWN does not receive any revenue or affiliate commissions from any service. We don't know if a service or website holds the proper licensing for the channels that they deliver. Always use a VPN with unverified IPTV services/websites as their servers may be insecure.
Step 1 – Register for an account at Surfshark by clicking HERE.
Step 2 – From the home screen hover over Find.
Step 3 – Scroll down and click Search.
Step 4 – Type in "Surfshark" and click the first option.
Step 5 – Click the Surfshark VPN app.
Step 7 – Once the Surfshark app installs, click Open.
Step 8 – Click Login or Create account.
Step 9 – Input your Surfshark username and password and then click Login.
Step 10 – Click the CONNECT button.
Step 11 – If you receive a VPN connection request such as this, click OK.
Step 12 – Click the Disconnect button to stop service.